"KUALA LUMPUR: A pilot programme to teach students of the dangers of out-of-wedlock sex has been introduced as part of the school curriculum last month as a means to prevent incidents of teen pregnancies amongst girls below 16.
The move was amongst the steps taken by Women, Community and Family Development Ministry to address the social issue which recorded over 6,000 teen pregnancies and births involving girls below 16 since 2000.
"Based on data of the National Registration Department, a total of 6,820 pregnancies and births involving girls below 16 were recorded between 2000 and Oct 9 2012," the ministry said in a written reply to Chong Eng (DAP-Bukit Mertajam) in Parliament.
The pliot project, in cooperation of the Education Ministry, teaches Year 6 and Form Three pupils of the risks and dangers of sex via the Reproductive Health and Social programme.
The programme was based on the Reproductive Health Adolescents module of the Federation of Reproductive Health Associations.
"The programme was implemented as part of the curriculum for Standard Six and Form Three students after their respective UPSR, PMR and special students examinations in selected schools nationwide beginning September," it stated.
The ministry said that 67 teachers were given training to teach 1,360 students on the dangers and risks of unmarried sex during the programme held between Sept 8 and 10." - The Star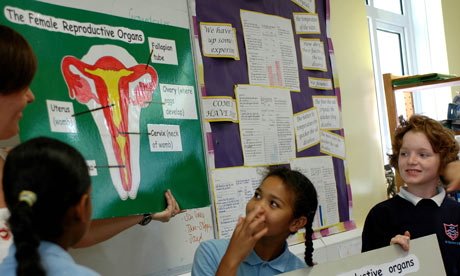 Signifikan daripada kisah
Alvin & Vivian
, ini merupakan satu langkah prevention di mana Kementerian Wanita, Keluarga dan Masyarakat telah melancarkan satu gerakan untuk memberi pendedahan kepada para remaja tentang bahayanya seks luar nikah dan pregnancy di usia muda. Nak-nak pulak mengikut kajian dari tahun 2000 hingga 2012, terdapat 6820 kes pregnancy dan anak luar nikah lagi di catatkan. Dan angka itu adalah untuk gadis-gadis bawah 16 tahun. Gila ke tak gila?
So, aku setuju dengan program ini untuk bagi kesedaran kepada golongan remaja zaman sekarang ni betapa gejala sosial di kalangan kita sekarang semakin meruncing. Jika dulu-dulu, orang mula rosak dengan dadah, kemudian seks bebas, lepas itu buang anak pulak, andai prevention ni tidak dibuat ntah-ntah lagi 10 - 20 tahun, kita bakal berdepan dengan apa pulak ye?
P/s:
Please la... aku dah naik muak dengan gejala sosial yang negatif dari generasi-generasi plastik sekarang ni... memburukkan imej je!!